/
/
DEDICATED MUSEUM VOLUNTEERS AT CORFE CASTLE STATION WIN FIRST GRANTS TO IMPROVE EXPERIENCE FOR VISITORS
POSTED BY:
Martin Trott
15th November, 2021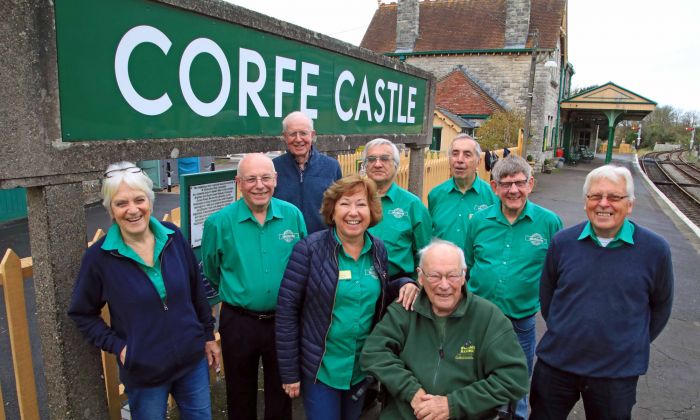 Andrew P.M. Wright
POSTED BY:
Martin Trott
15th November, 2021
Story and photographs by Andrew P.M. Wright,
Swanage Railway official photographer and press officer.

Dedicated Swanage Railway Museum volunteers at Corfe Castle station are celebrating after winning their first grants – the money being used to further improve the experience for visitors.
Attracting 48,000 visitors a year before the 2020 coronavirus pandemic, the free admission museum – established in the goods shed of the restored Victorian station in the year 2000 – tells the fascinating story of the Swanage branch line from the 1880s.
Operated by the Swanage Railway Trust registered charity, the museum has been largely funded by public donations and was ranked twelfth in a Visit England tourist body survey during 2019.
The National Lottery Heritage Fund has awarded a grant of £23,700 for the museum to create audio pods so visitors can enjoy a typical 1950s branch line station 'sound scene' and listen to recordings of evocative memories from Swanage branch line staff and passengers during the 1950s and 1960s.
The money will also be used to improve 'front of house' facilities at the museum so that visitors can talk to staff about the Swanage Railway's history and access the archives.
The South West Museum Development Programme has also given the Swanage Railway Trust museum a grant of £4,000 which will pay for professional management advice and mentoring to the volunteer museum staff during the project.
A delighted Swanage Railway Trust chairman Gavin Johns said: "Thanks to players in the National Lottery, this much appreciated investment will allow our museum to begin a transformation to an even more inclusive and interactive space in which visitors, of all ages, can learn about the social and economic effects on the Isle of Purbeck of the Victorian Swanage branch line.
"I would like to thank everyone who has played a part in the success of this grant application which has been a huge and detailed collective effort – one in which we can all take great pride," added Mr Johns who is also a volunteer signalman on the popular Dorset heritage railway.
After repeated attempts over almost 40 years, the ten-mile branch line from the London main line at Worgret Junction, south of Wareham, to Corfe Castle and Swanage was opened in May, 1885.
British Rail controversially closed the single tracked branch line in January, 1972, with seven miles of track being lifted in just seven weeks during the summer of that year.
After five years of determined campaigning by railway enthusiasts and Purbeck community volunteers, the fledgling Swanage Railway Society started restoration work at a boarded up Swanage station in February, 1976.
Second-hand track was slowly laid by hand at Swanage station and in the summer of 1979 the first trains ran over a few hundred yards of track – a small industrial diesel locomotive hauling a restored 1940s carriage.
Easter, 1980, saw the first steam trains run at Swanage station since the summer of 1967 when a small industrial steam locomotive hauled two restored carriages over a few hundred yards of track.
Passenger train operations were extended to the one-mile mark at Herston, on the outskirts of Swanage, in 1984 and then to the one and a half-mile mark in 1987.
Trains ran three miles from Swanage to Harman's Cross in 1989 and in 1995 passenger train operations were extended two and a half miles to Corfe Castle and Norden.
The Swanage Railway's relaid tracks met the national railway system, east of Furzebrook, in January, 2002 – on the 30th anniversary of the British Rail closure – and it was in 2006 that the Swanage Railway was connected to the national railway system.
The first diesel and steam trains from London to Corfe Castle and Swanage since 1972 and 1967, respectively, ran in April and May, 2009.
In 2014, the Swanage Railway's signalling system was linked into Network Rail's signalling system for the operation of the heritage line's connection with the main line at Worgret Junction south of Wareham.
The Swanage Railway welcomes new volunteers and anyone interested in finding out more should contact Swanage Railway volunteer recruitment and retention officer Jonathan Evans on 01929 408466 or email [email protected].
Other News