/
/
CORONAVIRUS APPEAL REACHES £261,809 ON 25th ANNIVERSARY OF CORFE CASTLE STEAM TRAIN RETURN
POSTED BY:
Martin Trott
17th August, 2020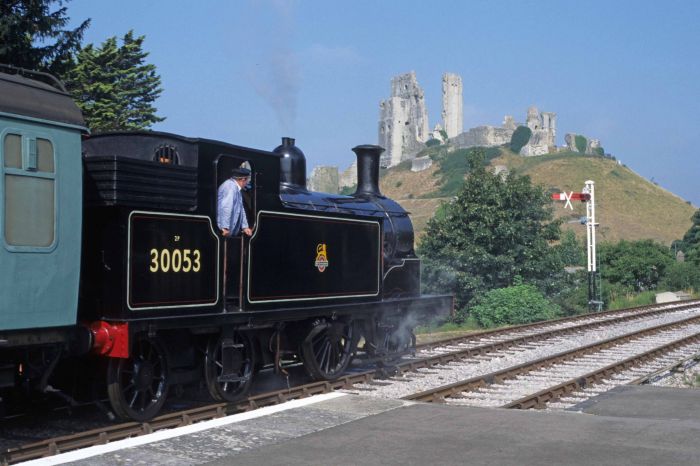 POSTED BY:
Martin Trott
17th August, 2020
An urgent £360,000 'Save Our Service' appeal to help the award-winning Swanage Railway survive in the wake of the economic effects of Coronavirus has reached £261,809 – on the 25th anniversary of steam trains returning to Corfe Castle and Norden for the first time since 1967.
Swanage Railway Trust chairman Gavin Johns is appealing to the public to continue to donate to the S.O.S. fund because the appeal, launched in late March, 2020, needs to reach its target despite a restricted steam and diesel passenger train service returning to the preserved line.
Gavin said: "We immensely grateful, and very humbled, by the response to the 'Save Our Service' appeal so far and I am urging the public to still give generously as our restricted train service of less trains – due to the need for cleaning and longer boarding times with allocated seating – is less profitable with 60 per cent fewer seats available due to the need to maintain social distancing to keep our passengers safe.
"The Swanage Railway is still fighting for its survival in these extraordinary and unprecedented times. Several generations of dedicated volunteers have rebuilt the Swanage Railway from nothing since 1976 and there is still so much more to achieve.
"The 'Save Our Service' appeal reached £261,809 on the 25th anniversary of the Swanage Railway returning steam trains to Corfe Castle and Norden in August, 1995, for the first time since the summer of 1967 and the days of British Rail.
"Relaying the track the five and a half miles from Swanage to Corfe Castle and Norden was a herculean effort that took 25 years to complete – a stark and very clear reminder of the incredible achievement that the 'Save Our Service' appeal aims to prevent from being lost to future generations," added Gavin.
It was on Saturday, 12 August, 1995, that Swanage Railway volunteers ran the first steam trains from Swanage to Corfe Castle and Norden since Sunday, 18 June, 1967, when the last British Rail steam train ran from Wareham to Corfe Castle and Swanage on a railway enthusiasts' special from London.
The Swanage Railway resumed a socially distanced, allocated seating passenger train service between Norden and Swanage – hauled by a 1960s ex-British Railways Southern Region Class 33 heritage diesel locomotive – on Saturday, 11 July, 2020.
Steam locomotives started hauling the passenger train service from Saturday, 18 July, 2020, with Corfe Castle station reopening to passengers on Saturday, 1 August, 2020.
A one-way system has been introduced at Corfe Castle station to keep passengers safe while Harman's Cross station and Herston Halt, the latter on the outskirts of Swanage, remain closed to the public.
Gavin explained: "We decided to re-introduce our passenger services in a restricted and staged way so that we could become confident at safe operation of each stage before proceeding to the next. This has worked well with many customers saying how well they thought our planning and operations were.
"We are pleased with the public response to our restricted train service – nine return trains a day during August, both steam and diesel – given the detailed work our staff have put in and the extremely unusual nature of post Covid-19 business," he added.
Rebuilt since 1976, the Swanage Railway – in Dorset's Isle of Purbeck – carried more than 200,000 passengers in 2019 and contributed more than £15 million a year to the Isle of Purbeck economy.
The Swanage Railway's fund-raising chairman, Randy Coldham, said: "The 'Save Our Service' appeal can be found at www.saveourservice.co.uk where donations can be made by PayPal, debit or credit card. Donations can also be made through our Facebook page.
"The public can easily donate by phone to the 'Save Our Service' appeal by texting 'SOS' to 70470 to donate £10 which costs £10 plus a standard rate message or other amounts between £1 and £20," added Randy who is a volunteer signalman on the Swanage Railway.
Clearly marked 'Save Our Service' appeal, cheques can also be sent to the Swanage Railway Trust at Station House, Station Approach, Swanage, Dorset, BH19 1HB.
Other News