/
/
CLASSIC VICTORIAN 'GREYHOUND' LOCOMOTIVE STARS IN NOSTALGIC THREE-DAY PURBECK CLASSIC TRANSPORT RALLY
POSTED BY:
Swanage Railway
12th September, 2015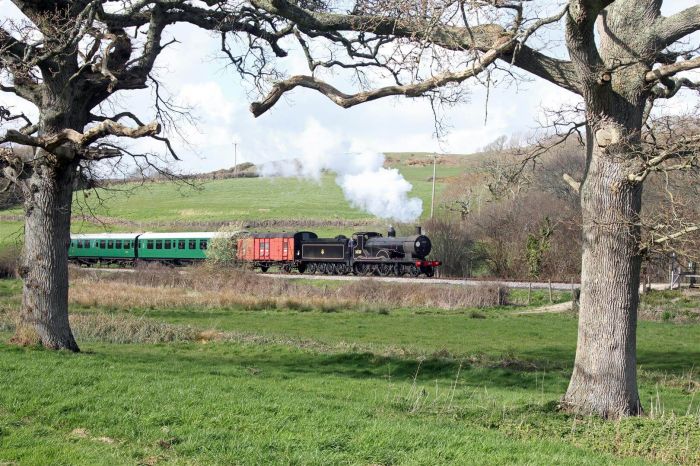 POSTED BY:
Swanage Railway
12th September, 2015
Story and pictures by Andrew P.M. Wright.
Swanage Railway official photographer and press officer
A unique Victorian class steam locomotive that survived an aerial attack in Dorset by the German Luftwaffe during the Second World War is starring in the Swanage Railway's three-day classic transport rally.
Dating from 1899, London and South Western Railway 4-4-0 wheel arrangement T9 class No. 30120 was known by generations of locomotive crews as a 'Greyhound' because of its turn of speed.
The last time that the graceful Dugald Drummond-designed steam locomotive hauled trains between Norden, Corfe Castle, Harman's Cross and Swanage was in March and April, 2014, as the accompanying photographs show.
More than 300 exhibits are featured in the popular yesteryear event next to Harman's Cross station in Haycraft's Lane – between Corfe Castle and Swanage – from Friday, 11 September, through to Sunday, 13 September, 2015, inclusive.
And train passengers with Rover tickets enjoy free entry into the rally which is being staged opposite Harman's Cross village hall by dedicated volunteers from the Bournemouth and Poole Preservation Club.
Open to the public between 9am and 5pm daily, there are vintage and classic vehicles, motorcycles, tractors, commercial vehicles, stationary engines, stalls and refreshments.
Steam trains are running an intensive service between Norden, Corfe Castle, Harman's Cross and Swanage from 10am to 6.15pm on all three days – with evening diesel shuttle trains running on the Friday and Saturday from 6.44pm to 10.45pm.
Belonging to the National Railway Museum based in York, and the only surviving T9 locomotive in the world, No.30120 is set to return to the Bodmin and Wenford Railway in Cornwall in October.
More than 70 years ago, T9 No. 30120 was hauling a freight train from Brockenhurst to Dorchester when it was attacked at Wool station by two Messerschmitt Me109 fighters during the sunny lunchtime of Saturday, 28 November, 1942.
Swanage Railway General Manager Matt Green explained: "One of the German cannon shells exploded on the footplate with the locomotive's Dorchester driver sustaining cannon shell shrapnel wounds to his head.
"The fireman sustained shrapnel wounds to his back and the pair were taken to the nearby military hospital at Bovington Camp for treatment.
"Stopped next to 'Ship Inn' public house next to Wool station – and awaiting permission to depart for Moreton – the T9 was riddled with bullet and cannon shell holes from end to end, including one through its firebox.
"Bullets and shells fired by the two Luftwaffe fighters in the attack also severed No. 30120's steam and lubrication pipes. The locomotive's driver and firemen were lucky to escape with their lives," explained Mr Green.
Built at the Nine Elms locomotive works in London in 1899 by the London and South Western Railway to a design by Dugald Drummond, T9 No. 30120 weighs 46 tons and hauled main line express trains in the south and west of England.
Carrying five tons of coal and 4,000 gallons of water in their long tenders, a total of 66 T9 class of steam locomotives were built between 1899 and 1901 – with each locomotive producing an impressive pulling power of more than 17,000 lbs of tractive effort.
Matt Green explained: "Large fireboxes and Stephenson link valve gear ensured that the T9s were efficient and free-steaming locomotives. Generations of drivers and firemen nick-named the T9s 'Greyhounds' because of their sureness of foot and powers of acceleration.
"A graceful and powerful design, the T9 locomotives were a common sight in Dorset and Hampshire for more than 60 years before being steadily withdrawn by British Railways for scrap in the late 1950s and early 1960s.
"No. 30120 was the only T9 to escape the breaker's yard and the scrapmen's cutting torches so she is valuable and evocative link with our country's important Victorian railway past," explained Mr Green.
After starting their working lives hauling main line express trains from London down to the south coast and the south west of England, the T9s hauled semi-fast and stopping main line trains as well as freight trains.
The T9 locomotives were regular performers on the Swanage branch line from the 1920s through to the early 1960s – hauling holidaymaker trains from Basingstoke and Salisbury as well as freight trains to and from Swanage and Corfe Castle.
Swanage Railway train times – and special event details – are available online at www.swanagerailway.co.uk or by telephone on 01929 425800.
Other News