/
/
BBC RADIO 4 DOCUMENTARY TO FEATURE UNIQUE & ACCLAIMED AWARD-WINNING PURBECK BALL CLAY MINING MUSEUM
POSTED BY:
Swanage Railway
13th January, 2015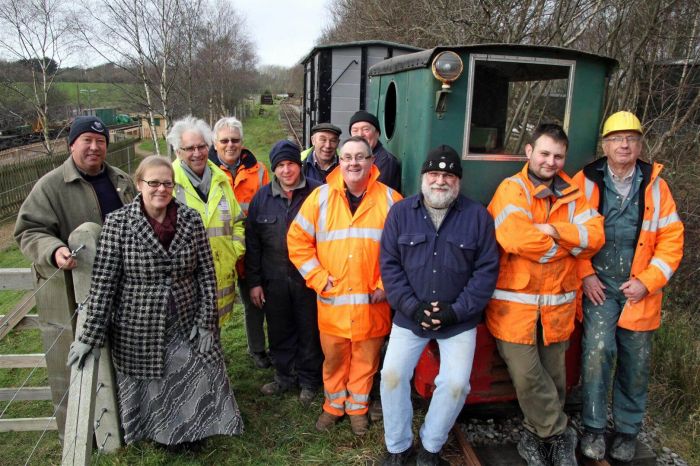 POSTED BY:
Swanage Railway
13th January, 2015
Story and pictures by Andrew P.M. Wright
Swanage Railway official photographer and press officer
Ball clay mining's fascinating 2,000 year history is to feature in BBC Radio 4's popular rural magazine programme 'Open Country' – following a visit to the dedicated volunteers behind the unique award-winning Purbeck Mineral and Mining Museum near Corfe Castle.
Featuring the people that shaped the landscape of Britain, the 25-minute 'Open Country' episode is broadcast nationwide on Thursday, 15 January, 2015, at 3pm before being repeated at 6.07am on Saturday, 17 January, 2015.
Presenter Helen Mark visited the Purbeck Mineral and Mining Museum – built from nothing since 2002 and located next to the Swanage Railway's Norden station – during December, 2014, to interview the chairman of the Museum's volunteer group Peter Sills as well as respected Purbeck ball clay mining historian Chris Legg.
The Museum has taken a small and very dedicated team of volunteers some 12 years and 40,000 hours to plan and build from scratch on the site of old ball clay works demolished during the 1970s.
Last year, the Purbeck Mineral and Mining Museum won the Heritage Railway Association's prestigious 2014 Interpretation Award for quality with the judges praising it for being "unique", "a valuable education resource", "a quality visitor attraction" and "of enormous education value and national interest."
Explaining the history and technology behind ball clay mining dating back some 2,000 years, the Museum features a realistic reconstruction of an underground mine tunnel, a rebuilt ball clay trans-shipment building, a 300 metre section of narrow gauge railway as well as an engine shed with viewing area.
Chairman of the Purbeck Mineral and Mining Museum's volunteer group, Peter Sills, said: "Everyone who has worked so hard to create and staff the Museum was thrilled and delighted that the 'Open Country' production team visited us as part of their exploration of this fascinating aspect of Purbeck history.
"Back in 2003, our volunteers meticulously took apart a ball clay trans-shipment mine building near Norden Farm – donated by clay mine company Imerys Minerals Ltd – and reassembled it a quarter of a mile away at the Museum site.
"Part of the Swanage Railway Trust and its educational remit, the Museum has been achieved thanks to a £100,000 European Union grant from 'Chalk and Cheese' initiative, as well as £40,000 donated by generous members of the Purbeck Mineral and Mining Museum," explained Mr Sills.
Retired Dorset pharmacist Chris Legg spent more than 50 years researching the history of Purbeck's ball clay mining industry and last year published his landmark hardback book and labour of love 'Fayle's Tramways – Clay Mining in Purbeck'.
The edition of 'Open Country' will be available on BBC i-player shortly after its first broadcast and will also be accessible via the programme's informative web page at http://www.bbc.co.uk/radio4/opencountry.
Currently closed for the winter, the Museum reopens on Saturday, 21 March, 2015, and will be open between 11am and 5pm (last entry is 4.30pm) on Saturdays and Sundays until the end of May when it also opens on Tuesday and Wednesdays until October when it reverts to weekends only until 2 November, 2015, when it closes.
While admission is free, donations are welcome to help fund continuing artefact preservation and Museum development. Just go on-line and visit; www.pmmg.org or call 01929 481461.
Other News