/
/
AWARD-WINNING BALL CLAY MINING MUSEUM TAKES PART IN PURBECK ARTS WEEKS TO CELEBRATE THIRD YEAR OF PUBLIC OPENING
POSTED BY:
Swanage Railway
21st May, 2015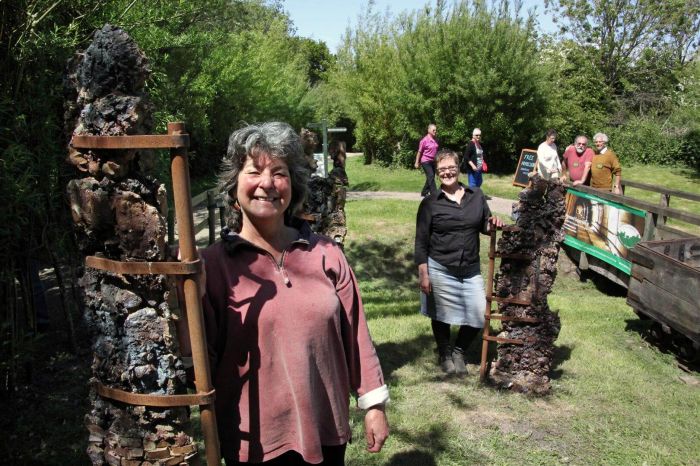 POSTED BY:
Swanage Railway
21st May, 2015
Story and photographs by Andrew P.M. Wright.
Swanage Railway official photographer and press officer.
A startling display of open-air sculpture is being featured at the award-winning Purbeck Mineral and Mining Museum near Corfe Castle – to celebrate the volunteer-run attraction's third year of public opening – as part of this year's popular Purbeck Arts Weeks.
With the theme of 'Out of the Depths', the two-week celebration of imagination and creativity across the Isle of Purbeck runs from Saturday, 23 May, until Sunday, 7 June, 2015 (inclusive).
Set against the background of the mining museum marking 2,000 years of local ball clay mining, the striking 'Mine Memories' sculptures have been created by mid-Wales-based artist Alison Lochhead using clay, cast iron, wood and rocks taken from former lead mines in the Cambrian mountains of North Wales.
Purbeck Mineral and Mining Museum curator Dr Clare Randall said: "Taking more than ten years to create on waste land next to the Swanage Railway's Norden station, the Museum tells the story of the Purbeck ball clay mining industry so it's a perfect venue for art on this theme.
"A talented sculptor for almost 20 years, Alison's work reflects on the memory of actions and experiences of people involved in lead mining in the Cambrian mountains over hundreds of years.
"Her imaginative work explores the stories and marks made on the landscape by the lead mining, as well as reflecting memories from deep within the mines themselves.
"We're delighted to be able to host Alison's work as her subjects chime so perfectly with the story we tell at the mining museum. This is the first year that venues such as our museum have been able to host invited artists for Purbeck Arts Weeks.
The Museum's grounds are a perfect space to show Alison's sculptures outdoors within a mining landscape," explained Clare who is also the Swanage Railway's Museums and Education Manager.
The Purbeck Mineral and Mining Museum has taken a small and very dedicated team of volunteers some 12 years and 40,000 hours to plan and build from scratch on the site of old ball clay works demolished during the 1970s.
Last year, the Museum won the Heritage Railway Association's prestigious 2014 Interpretation Award for quality with the judges praising it for being "unique", "a valuable education resource", "a quality visitor attraction" and "of enormous education value and national interest."
Explaining the history and technology behind ball clay mining dating back some 2,000 years, the Museum features a realistic reconstruction of an underground mine tunnel, a rebuilt ball clay trans-shipment building, a 300 metre section of narrow gauge railway as well as an engine shed with viewing area.
The Purbeck Mineral and Mining Museum is open to the public between 11am and 5pm (last entry is 4.30pm) daily throughout the two weeks of the Purbeck Arts Weeks.
The Museum is then open on Saturdays, Sundays, Tuesdays and Wednesdays until November.
While admission is free, donations are welcome to help fund continuing artefact preservation and Museum development work. Just go on-line and visit 'www.pmmmg.org' or call 01929 481461.
Other News