/
/
Author to Sign Landmark Ball Clay History Book at the Unique Award-Winning Purbeck Mineral & Mining Museum
POSTED BY:
Swanage Railway
21st August, 2014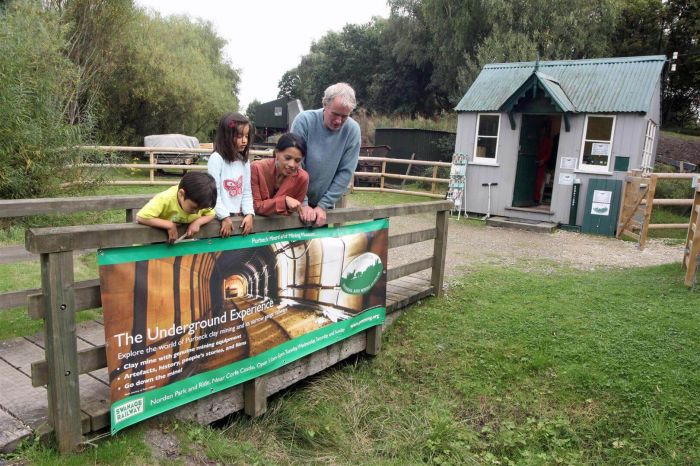 POSTED BY:
Swanage Railway
21st August, 2014
Story by Andrew PM Wright
Pictures by Simon Hanney
A dedicated author who has spent more than 50 years researching the history of the Isle of Purbeck's important ball clay mining industry is to sign copies of his new landmark book at the unique award-winning Purbeck Mineral and Mining Museum near Corfe Castle.
Growing up in Wareham and going to school in Swanage, Chris Legg will be signing copies of 'Fayle's Tramways – Clay Mining in Purbeck' at the Norden museum, next to the Swanage Railway's Norden station and Purbeck District Council's park and ride car park, on Bank Holiday Monday, 25 August, 2014, between 11am and 4pm.
With the free admission volunteer-run Purbeck Mineral and Mining Museum being opened for the day, the occasion is being marked with a special appearance by a Victorian narrow gauge steam locomotive No. 542 'Cloister' which was named after an horse that won the Grand National during the 1890s.
Published by the Twelveheads Press based at Chacewater near Truro in Cornwall – and featuring 225 illustrations – copies of Chris Legg's hardback 'Fayle's Tramways – Clay Mining in Purbeck' are £28.00 each.
The new landmark book by the retired pharmacist, who used to work in Wareham, covers some 200 years of history and six different gauges of narrow gauge railways that transported ball clay from the Isle of Purbeck for use in the potteries of the Midlands which exported their ceramic wares across the world.
Purbeck Mineral and Mining Museum Chairman Peter Sills said: "Everyone is absolutely delighted that Chris Legg is travelling from his home in Suffolk to sign his new landmark book in the area where ball clay has been mined for more than 400 years. It's very apt and it will be a very special day enjoyed by many people with an interest in the subject.
"Ball clay mining industry and narrow gauge railway enthusiasts have been waiting with anticipation for many years for Chris to complete his 50 plus years of meticulous research and write his book – a wait that has been well worthwhile," explained Mr Sills.
Explaining the history and technology behind ball clay mining – which has been taking place in the Isle of Purbeck since the 16th century – the museum features a realistic reconstruction of an underground mine tunnel, a rebuilt ball clay trans-shipment building, a 300 metre section of narrow gauge railway as well as an engine shed with viewing area.
Part of the Swanage Railway Trust and its educational remit, the museum is the result of some 40,000 hours of work – and has been achieved thanks to a £100,000 European Union grant from the Chalk and Cheese organisation as well as £40,000 donated by museum members.
Swanage Railway Trust Chairman Gavin Johns explained: "The Swanage Railway Trust is very proud to have played an important part in the creation of the Purbeck Mineral and Mining Museum as among the Trust's aims is to preserve, conserve and educate.
"Because Chris Legg knew many Purbeck ball clay miners, managers and their families over many years, his new book is a very people orientated story with fascinating photographs and drawings – many of which are published for the first time," he added.
A 0-4-0 wheel arrangement saddle tank steam locomotive, 'Cloister' was built by Hunslet of Leeds in 1891 for the Dinorwic slate quarry – once the largest slate quarry in the world – at Llanberis in north Wales a cost of £500.
Planned and built by a small team of dedicated volunteers over more than a decade, the award-winning Purbeck and Mineral Mining Museum is open on Saturdays, Sundays, Tuesdays and Wednesdays between 11am and 4.30pm. Admission is free.
Donations are welcome to help fund continuing preservation and development work at the Purbeck Mineral and Mining Museum – just go on-line and visit 'www.pmmmg.org' or call 01929 481461.
Other News