/
/
/
SR 2-6-0 - U Class No. 31806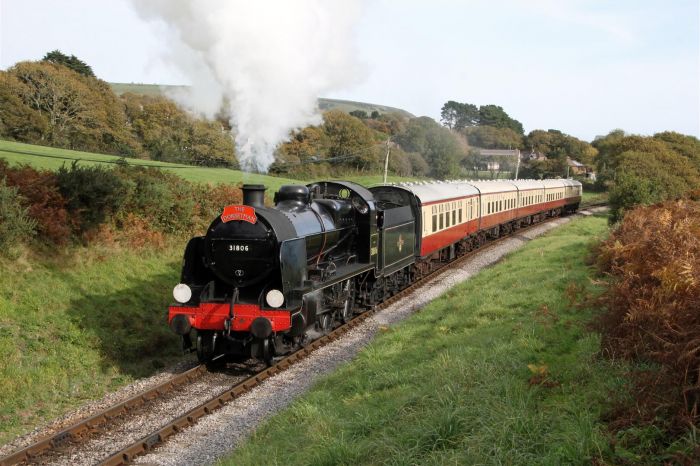 Andrew P.M. Wright
31806 in Brief
Type
U Class
Constructed
Brighton Works, Oct 1926
Rebuilt
Brighton, June 1928
Shed allocations
21/3/1933 Nine Elms, 1939 Basingstoke, On nationalisation, Guildford, 06/11/1954 Nine Elms (70A), 21/06/1955 Basingstoke (70D), 01/04/1963 Guildford (70C)
Withdrawn
Guildford, 5th Jan 1964
Estimated Mileage
968,600 miles under SR/BR. Preservation Millage TBD.
Left Barry
Oct 1976
Operation in preservation
April 1981 to 2014 – Mid Hant's Railway,
2014 to Present – Swanage Railway
Current status
Operational.
What's unique about 31806?
It's the only surviving K class rebuild and currently the only U class operational.
Working Life
Its first shed allocations are not known but its works record card record it being at Nine Elms on 21 March 1932. When the final batch of U's were built between 1932-1934 the class numbering was rationalized. The prefix 'A' was dropped from the start and replaced with a '1'. Our loco left Ashford works paint shop on the 1 Sep 1932 bearing number 1806. It was either this visit to the works or the subsequent one in December 1934 that it acquired the distinctive 'half height' smoke deflectors.
One source records it being allocated to Basingstoke in 1939. It's record card has Redhill pencilled in, and if we assume this was the last depot when the card was filled the date would be 1944. In 1945 it's recorded as having minor repairs at Guildford shed and was already based there following nationalisation on the 1st January 1948.
After nationalisation the locomotive was renumbered as 31806 leaving the paint shop on the 1 April 1949 painted in to BR Mixed Traffic Black. In 1953 its tender was swapped for a new 4000 gallon type. It moved back to Nine Elms in 1954, then to Basingstoke in 1955 and was photographed on the Swanage Branch several times during this period.
By the late 1950's a number of the class were suffering from worn out cylinders and cracks in the light weight frames. In September 1957 having run nearly 836,000 miles 31806 went to Ashford Works to receive a 'new front end' comprising BR type 4 cylinder blocks, chimney and blast pipe. The BR cylinders have an outside steam pipe and different mounting holes requiring the front section of the frames to be changed as well. The Davies & Metcalfe Exhaust injector was also removed from the LHS and instead two live steam injectors were fitted to that side. It's tender was swapped again back to the same 3500 gallon tender it was given when converted from a K class. It returned to traffic 1st November. The last modification in its working life was the fitting of AWS at some time between 1957 and April 1963 when it moved back to Guildford again.
Withdrawal, Barry & Preservation
31806 was retired on 5th January 1964 from Guildford Shed after 34 years & 7 months service, and nearly 1 million miles. In June of the same year it was towed to Woodham's Scrapyard at Barry, South Wales where she languished for over 12 years. Like a many other locos in Barry, she lost her tender, probably for use as an ingot carrier at Briton Ferry steel works.
Eventually purchased for preservation at the Mid Hant's Railway, it left in October 1976. The 85th loco to leave the yard, restoration started in 1979 and the locomotive re-entered service April 1981, with an ex-Barry tender number 851 from S15 30499 which in turn had only acquired it days before being withdrawn. During an intermediate period waiting overhaul 31806 loaned the tender and some of her motion to 31625 to enable it to run mainline. Its tender was being worked on in Ropley carriage shed when it was damaged by the fire that destroyed the shed in 2010. After overhaul 31806 re-entered traffic on the Mid Hant's in 2011.
Current
In 2014, U 31806 transferred to Swanage, along with U 31625 & N 31874. The Swanage Railway is very pleased to have the loco as part of its resident fleet. It's efficient, easy to maintain and very popular with the crews. It's currently the only operational U and is popular on the Gala circuit. It's Boiler ticket expires in 2021. Your support will help to maintain it and ensure a swift overhaul when the time comes. Please visit our donation pages.
31806 is the oldest of only 4 surviving U's in preservation and the only one from the first batch converted from River tanks.