/
/
/
Pullman Observation Car No.14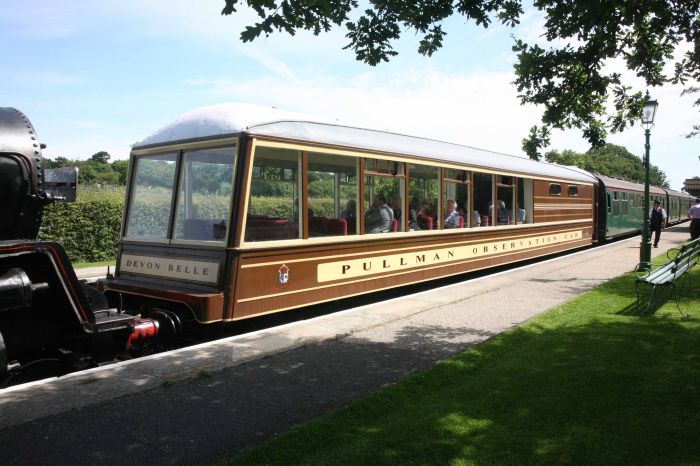 Andrew P.M. Wright
This Observation coach – officially known as Car 14 – is one of two vehicles converted by the Pullman Company at their Preston Park works in Brighton during 1947 with seating for 27 passengers and a bar for drinks service.
Rebuilt from earlier Pullman cars constructed on ex-London and North Western Railway underframes, they were converted for the 'Devon Belle' service from Waterloo to Ilfracombe.
After the 'Devon Belle' service ended in 1954, the observation cars were used on charter services, ending up on the Scottish Region in 1961 on the lines between Inverness and the Kyle of Lochalsh and from Glasgow to Oban.
After withdrawal in 1967 with the end of steam, Car 14 went to North America as part of the 'Flying Scotsman' tour train of 1969. Travelling extensively around the USA and Canada, the car was exhibited with the train at the 1970 Toronto exhibition.
The locomotive 'Flying Scotsman' was repatriated in 1971 but the remainder of the train including Car 14 ending up behind left on the quayside at the in San Francisco. The Pullman observation car fronted an office building used variously as a café, conference room and a humble store for thirty five years until 2006.
In 2006 the owners decided to renovate the offices and no longer required the car. In 2006, the Swanage Railway Trust made an appeal for funds for £30,000 of funds to return and refurbish the coach. Car 14 was repatriated in 2007, refurbished and returned to service in 2008 on the Swanage Railway.